About Us
Driving operational efficiencies in highly integrated manufacturing
Intraratio drives operational efficiencies in highly integrated manufacturing through affordable IT systems that leverage real time data analytics and automation. Our rapid deployment solutions are designed for clients who demand deep technical traceability, adaptability and data driven execution. With solutions deployed globally, our platforms bring true visibility and scale to manufacturing operations anywhere.
Backed by over 20 years of global high tech engineering and manufacturing experience, our platforms break the accessibility and integration limitations of existing software systems – putting data-driven innovation and improvements at the fingertips of those who are passionate about operational excellence.
Our Story
The DNA of Product Engineering
In 2003, a solution was born from a Product Engineer needing to solve the design, manufacturing and supply chain issues of producing advanced internet router chipsets.
The result was the development of a software architecture that could parse and map any type of data, from any machine or network source, regardless of protocol and format.
This solution integrated data collection across all operations functions, aggregating and cataloging this data for real-time monitoring and alerts, predictive analysis and outlier detection.
From 2003 to 2008, this solution expanded to serve commercial semiconductor, silicon photonics high performance computing, space and military rad-hard systems, and medical device technologies.
By mid 2008, production versions were being deployed in Asia, providing direct global factory site integration back to the USA.
In 2009, deployments were expanded to include Mexico, further connecting and integrating factories and suppliers.
By 2010, success would lead to full commercialization across North America, Europe and Asia.
Our unique approach has proven itself to be prescient in this age of AI. By delivering the fundamental infrastructure of Industry 4.0, advanced techniques of data decision automation are enabled.
Our story continues today, in partnership with our customers, taking on and solving the exciting and complex challenges of manufacturing today's advanced products.
Our Commitment To Excellence Is Recognized
Octane recognizes Intraratio as the 2022 Outstanding Technology Company. The Outstanding Technology Company is the award that recognizes a medtech/technology company in Orange County.
At Intraratio we are proud and humbled to have received this 2022 award, acknowledging our unique technology approach and capabilities, helping drive digital transformation of advanced manufacturing industries.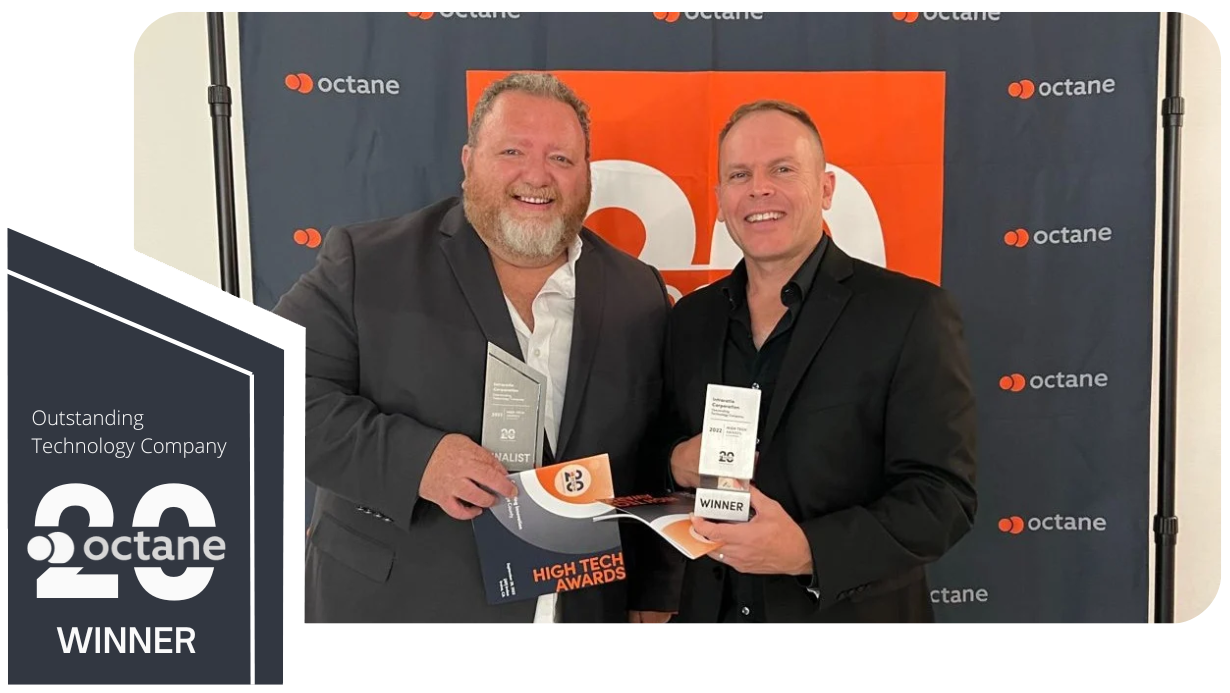 We are enabling the next manufacturing revolution, Industry 4.0, by providing advanced MES, IIoT and AI/ML proven hybrid cloud platform solutions to our clients, digitizing their global manufacturing operations.

Our software solutions enable our clients to manage, track and automate the manufacturing of today's most complex electronics products and systems. From semiconductors, silicon photonics, space/military systems, electric vehicles, to medical devices, and more.

We are looking for talented and motivated people to help us on this journey of growth and success. We are creative, passionate, and believe in work-life balance because your creativity is drawn from all aspects of who you are and what you do.

Currently seeking to fill the following positions: